Computer
The Computer is played by John-Luke Roberts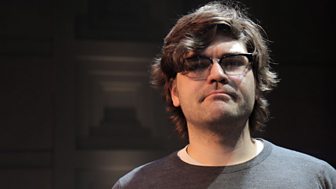 Name: Computer
All the best sinister technology is black.

Computer
Age: 3 years (but its memory has recently been upgraded, so should last another couple at least)
Species: Computer
Appearance: Sleek. Modern. Covered in exciting flashing lights that don't seem to relate to any particular function.
Natural habitat: On a table in the corner
Specialist subject: None. It knows everything, you see...
Secret skills: Can be used to send faxes. It's not 'secret' as such - it's in the manual and everything - but as yet nobody has ever done this.
Favourite colour: Black. All the best sinister technology is black.
Most commonly used phrase: 'Are you sure you want to proceed Y/N?'
Could be represented in confection by: Apple cake
Fear Factor: 6