Angela Nic'Illeathain
Thòisich Angela Nic'Illeathain ag obair ann an seòmar-naidheachd roinn Ghàidhlig a' BhBC ann an 1999.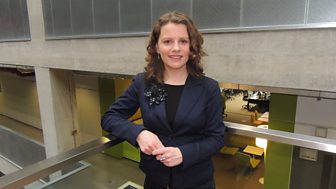 'S ann ann an Inbhir Nis a tha i stèidhichte, mar is trice, ag obair air Aithris na Maidne, Aithris an Fheasgair agus An Là, a thuilleadh air an t-seirbheis-naidheachd air-loidhne.
Bidh i cuideachd ag obair còmhla ri sgioba Eòrpa. Rinn i a' chiad aithris airson a' phrògraim ann an 2003.
Bhon uair sin rinn i aithrisean air cuspairean leithid Crìosdaidhean Ioracach a' teicheadh dhan Tuirc, boireannaich a chaidh a dhochan san dachaigh san Ruis, agus boireannaich a chaidh èigneachadh ann an Cogadh Bhosnia.
Thogadh Angela ann an Nis ann an Leòdhas agus chaidh i a dh'Oilthigh Ghlaschu far an d' fhuair i ceum ann an Ceiltis.
Angela MacLean (English)
Angela MacLean began working in the BBC Gàidhlig department's newsroom in 1999.
Normally based in Inverness she works on Aithris na Maidne, Aithris an Fheasgair agus An Là, as well as for the online news service.
Angela also works with the Eòrpa team and did her first report for the programme in 2003.
Since then she has reported on topic such as Iraqi Christians fleeing to Turkey, domestic violence in Russia and women that were raped in the Bosnian War.
Angela was raised in Ness on the Island of Lewis and graduated with a degree in Celtic Studies from the University of Glasgow.