Jack Brabham
Hailing from the suburbs of Sydney Australia, Jack Brabham was known as the quiet man of the race track.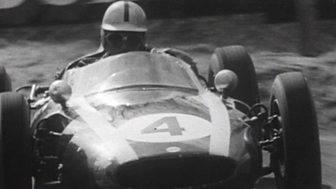 His gritty determination was born from the rough and tumble of Aussie Midget Car racing scene, and led him to become one of only eight drivers to win the Formula One World Championship three times or more.
His skills as a mechanic gave him an advantage on the track

That Petrol Emotion
He came to Britain in the mid-1950s to work with John Cooper's team, where he helped build and race Formula One cars. His skills as a mechanic gave him an advantage on the track, as he could precisely pinpoint how to fine tune his car.
Jack Brabham won his first Championship in 1959 and dominated again the following year. But he chose to leave Cooper soon after, setting up his own Brabham team. After years of development Brabham's hard work paid off in 1966 when he became the only man to ever win an F1 World Championship in a car bearing his own name.
Although it was his final outright win as a driver, Brabham racing continued to be a contender up until his retirement in 1970. The Brabham marque continued to produce Grand Prix worthy cars throughout the 70s and 80s, but under the ownership of Bernie Ecclestone.