Dawn Swann
Dawn was a dreamer with higher aspirations than the rest of her clan. Despite her starry-eyed approach to life, Dawn knew how to get what she wanted.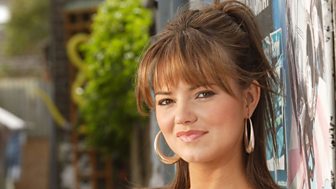 | Fact title | Fact data |
| --- | --- |
| First appearance: | 26th September 2005 |
| Last appearance: | 27th August 2009 |
| Occupation: | Barmaid |
Glamorous dreamer, Dawn Swann swept into Albert Square like a vision from the set of Footballers' Wives.
If nobody dies or loses their taste in clothes, then what harm can it do?

Dawn Swann
Oozing sex appeal out of every fake-tanned pore, flirty Dawn knew just what to do to make the Walford men stand to attention and modelled herself on Jordan - fake boobs and all!
We're not sure what or who inspired her to sell her love child to her married partner's wife, Dr May, however. Luckily, after a terrifying kidnap ordeal, baby Summer was born safe and sound. Dawn and Summer endured a fatal explosion (ending May's life, not Dawn's and Summer's).
Rob, Garry, Jase and even Phil Mitchell fell under Dawn's seductive spell. Jase died tragically on their wedding day. Jinxed surely, she was then jilted months later at the altar by gormless Garry Hobbs and decided to leave Walford for good... only to be happily reunited with Garry at the last moment. Destined for calmer waters, they sailed off into the sunset together on a canal boat!
Played by Kara Tointon