Bulgaria: Maria Radoeva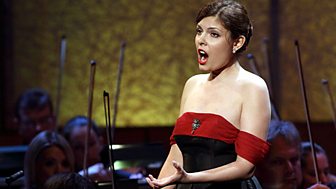 BBC Cardiff Singer of the World competitor
Maria Radoeva was born in Sofia. At the National Music Academy of Sofia between 2003-2006, she studied with Liyudmila Hadjieva and Plamen Beykov, and continues her studies in Modena with Raina Kabaivanska.
Maria's competition successes include special prizes at the Georgi Zlatev-Cherkin competition in 2005 and the Golden Prize at the 2005 Spring Festival of Arts, Korea. She has taken part in master classes with Gustav Kuhn, Francisco Araiza, Siegfried Jerusalem and Katia Ricciarelli.
After her operatic debut in Ruse as Zerlina Don Giovanni, she focused on baroque and bel canto operas, on Mozart roles (Susanna, Despina, Pamina, Fiordiligi), and on oratorio repertoire, including Messiah and Pergolesi's Stabat Mater.
Maria has collaborated with the period instruments ensemble Concerto Antico in works by Bach, Handel and Vivaldi. In 2008 she was selected by Christophe Rousset for his Monteverdi project in Siena and has performed with Les Talents Lyriques. Also, Maria has performed modern works, including Shostakovich's Seven Romances on Poems of Alexander Blok with Ensemble Risognanze. In December she made her debut at Sofia Opera House as Musetta La bohème. She recently recorded Rossini's Petite Messe Solennelle.
Future engagements include Mahler's Second Symphony with the Orchestre National de Pays de la Loire. Maria enjoys painting, reading, fashion and spending time with her family.
BBC Cardiff Singer of the World 2011: concert one repertoire
Agitata da due venti (La Griselda) - Vivaldi
Bel raggio lusinghier (Semiramide) - Rossini
Quando m'en vo' (La bohème) - Puccini
Alleluja (Exsultate, jubilate) - Mozart
BBC Cardiff Singer of the World Song Prize 2011: recital one repertoire
Romance (Deux romances No 2) - Debussy
Les cloches (Deux romances No 1) - Debussy
Die Nacht (Op 10 No 3) - R Strauss
Befreit (Op 39 No 4) - R Strauss
Nani mi nani, Damyancho - Lyubomir Pipkov