Chris Evans
Chris' entrepreneurial zeal emerged at an early age, when he ran the local newsagents in his home town of Warrington and set up his own Kiss-o-gram and Private Detective agencies.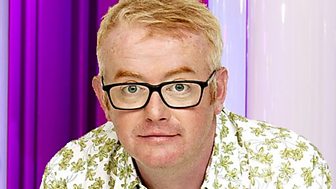 Chris started his broadcasting career at Piccadilly Radio then moved to GLR, where his infamous Round at Chris' Saturday morning show attracted a huge cult following and he later took the format to Virgin 1215.
A stint on the short-lived BSB Channel, The Power Station allowed Chris time to hone his presenting technique, until channel 4 opted for a different type of early morning show with The BIG Breakfast.
Chris dived into the nation's mornings, spearheading the morning extravaganza alongside Gaby Roslin. Chris' years on the show made him a national star.
In 1993, Chris formed his own company called Ginger Productions to formulate a brand new variety show for Saturday nights: Don't Forget Your Toothbrush.
Devised, written and performed by Chris, the ratings peaked at a combined 6 million viewers.
With Chris at its helm, Ginger Productions fast became one of the major players in entertainment production. Under the Ginger banner, Chris produced and presented a second series of Don't Forget Your Toothbrush revitalized BBC Radio 1 with his Radio 1 Breakfast Show before bowing out to concentrate on his unique end-of-the-week TV show on Channel 4, TFI Friday. TFI ran for 5 years, before finishing on 22 December 2000 with a show hosted by Elton John.
Chris joined Radio 2 to present his regular Saturday afternoon show in 2005 and moved on to presenting the Drivetime show in April 2006.
He took over presenting the Radio 2 Breakfast Show from Terry Wogan in 2010.
The same year Chris joined The One Show team. Since taking to the sofa on Friday evenings Chris has joined Alex in celebrating the Royal Wedding by presenting the show live from a bustling street party, welcomed the Olympic flames arrival in Britain at RNAS Culdrose and interviewed David Beckham, Katy Perry, Elton John, Cliff Richard, Brian May and Russell Brand among many others.