Amy Corrigan answers your questions
After a Theatre Props task fraught with bickering, garden centre begging and hunting for the elusive 'bandela drum', Lord Sugar fired Amy despite her confident boardroom performance. The 17-year-old student has kindly answered a selection of questions sent in by Young Apprentice fans via Facebook and Twitter, starting off with that perennial poser…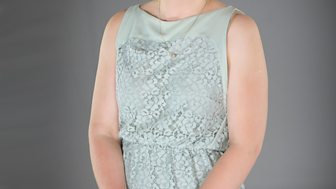 What's a candelabrum? (from Adam)
A candelabrum is something which holds multiple candles, I think!
What did you learn from your time on the show? (from Hyder)
I think Young Apprentice taught me a lot about business and about myself. I learnt that business is what you make it, you can be innovative and go with your idea. I think I learnt that I personally am extremely strong-minded.
Why do you think you were fired? (from Afra)
I think I was definitely fired for my blunt, honest and direct approach to situations. I still don't think I should have been fired, we had to get ten items and my sub team got three. And I sourced two of those three.
Should David have gone instead? (from Saira)
Yes, David and I did argue a lot. David was on the losing team frequently. I'm not too sure what David was like on task 1 and 2, but on task 3 he did slack a lot. David didn't actually secure the deal on the army boots himself, I did actually locate those and my own deal on the cash register! I was a lot more proactive than David!
You claimed you had other things you still hadn't shown to Lord Sugar - what exactly were these? (from Harry)
I don't think my full creativity had been shown yet. In task 2 I suppose did exploit my creativity with #wheresmummy. But I wanted to be able to show a different side to myself than I had shown in task 3! In task 1 I didn't fully come out of my shell like I wish I would've done.
Has your life changed since being on Young Apprentice? (from Graham)
Since being in Young Apprentice, I've learnt that I'm a lot more creative than I initially gave myself credit for! I now would love to go into advertising, while I still dream of owning a nightclub one day. I also now realise that I'm really creative, and this is something I am ready to explore!
What were your thoughts when you re-watched the episode? (from Felix)
I really enjoyed the episode. It was quite refreshing to see that Odyssey struggled with pretty much exactly the same things as Platinum! I was proud of myself watching it back.
If you had your time again what would you do differently? (from Laura-Louise)
I think I would take more credit for the things I did well, rather than accepting problems. I wish I had shouted louder about the cookbook idea being my idea. I also wouldn't have argued so much with David, that didn't show a good side to me.
Who do you think will win? (from Keelan)
I think Ashleigh will win! She is so good at business - I really want her to win! Upon reflection, she did a lot more right than she did wrong. Ashleigh was so easy to work with, and to get along with.
Do you think with hindsight that being 'blunt' was a good idea? (from Deborah)
Probably not!
Do you think that your experience on the show (even though it ended prematurely) will lead to greater things? (from Amar)
It's taught me a lot, I'm sure I will be able to take all that I've learnt and bring it with me in later life!
What are you going to do now? (from Josh)
I'm going back to studying for my A-Levels, and I'm still debating with myself about university! I would really love to get into advertising and develop a career in that industry, and then later establish my dream by owning a nightclub!
If you have any questions to ask this week's eliminated candidate, tweet them to @bbcapprentice after the show on Thursday night using the hashtag #ApprenticeQnA