Michael Jenson
26 year old Michael never got on at school, preferring to bunk off than attend lessons.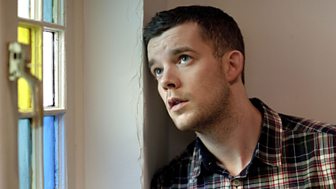 Overwhelmed by impending fatherhood, he now works selling trainers and playing at being grown up, not managing either very well. When he recognises one of his neighbours, Michael sees a chance to redress the balance and get even with someone from his past with potentially catastrophic consequences.
Russell Tovey
In 2004 Russell starred as Rudge in Alan Bennett's The History Boys at the National Theatre alongside James Corden. He went on to tour the role on Broadway and internationally as well as playing the role in the film adaptation. Russell is also well known for his role of Midshipman Alonso Frame in Doctor Who and as George Sands the werewolf in 3 series of Being Human. Russell can soon be seen as Paul in Him & Her when it returns for a 4th series on BBC Three.