Destiny's Dad
also known as... Hal Cruttenden, Shaun Keaveny and Mark Dolan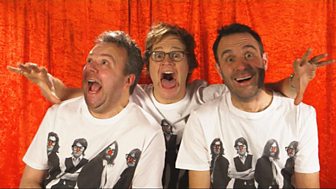 Hal Cruttenden is a comedian, writer and actor. TV appearances include Michael McIntyre's Comedy Roadshow, The Royal Variety Performance and John Bishop's Only Joking. In 2012, he was nominated for 'Best Club Act' at the prestigious Chortle Awards and his critically acclaimed stand up show 'Tough Luvvie' was a complete sell-out.
Hal has written numerous sketches for The Omid Djalili Show and The Rob Brydon Show and is a regular at all the top UK comedy clubs where he has supported Stephen Merchant, Rob Brydon and Sean Lock on their nationwide tours.
Hal has been on the comedy circuit for 10 years and in that time has taken his gigs all over the world including Canada, Singapore and Dubai. Unashamedly middle-class, Hal's jokes usually centre on suburban life and hitting middle-age. Hal is married with two kids, but is known for being camp, which he plays on in his stand-up acts. Originally a professionally trained actor, in the 90's he had bit-parts in EastEnders and Kavanagh QC.
Trivia:
Hal used to work at BBC Travel and would write London traffic reports.
Hal once performed to an audience of just 9 people at Edinburgh Fringe.
Shaun Keaveny is a broadcaster who presents the breakfast show on BBC Radio 6 Music. Before joining 6 Music in 2007, he presented XFM London's weekday afternoon show and the Friday breakfast show.
Shaun's work in TV has included appearing with Richard Bacon on his show Flipside TV, with Mary Anne Hobbs on JAMZ and appeared on Ready Steady Cook with Huey Morgan.
He has narrated E4's Stop Treating Me Like a Kid, Superheroes for Sky One and Channel 4's Road to V; and was the new "voice of Sky One".
As well as TV and radio work, Shaun published a book in 2010 called 'R2D2 lives in Preston' which is a compilation of facts relating to towns across the UK, advised by listeners to his Radio show in a feature entitled 'Toast the Nation'.
Trivia:
There are YouTube videos showing Shaun doing his daily dance in the 6 Music studios.
Shaun Keaveny performed a stand up gig for Comic Relief, in 2011.
Shaun appeared as himself on an episode of The Bill in 2005.
He played guitar in the student band Mosque between '87 and '93.
Mark Dolan is an English comedian, writer and TV presenter. He started as a stand-up comedian in 2000 whilst working in radio. He is well known as the host of Balls of Steel, as well as being the presenter of The Mad Bad Ad Show.
Mark has fronted popular documentaries including The World's Hairiest Person and Me, and The World's Strongest Child and Me, in which he meets the world's most extraordinary people. He has also hosted the Sky Movies film review show 35mm.
Mark first came to the public's attention in 2002 after writing and performing in a Comedy Lab programme entitled The Richard Taylor Interviews. Mark is married and has two sons.
Trivia: