Jack Paterson
Jack Paterson was born and brought up in Thornliebank. Part of a huge extended Southside Glasgow family, he is the middle brother of five. His dad is a retired joiner and his mother was a district nurse. He's got a brother in the army, a brother in the clergy, a brother at the Bar and a brother in the Bar L.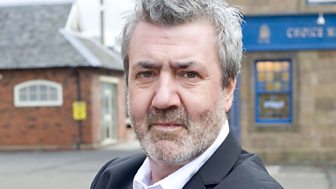 Jack likes the ladies. He took up hairdressing because of the unrestricted access to female "company".
A survivor of three marriages, four engagements and countless affaires d'amours, he is a charming rogue. However, there is sadness at the heart of Jack. He never did recover from the death of his only and beloved sister Frances of diphtheria at the age of 10. Maybe he's been looking for her ever since.
Jack is an adrenaline junkie whose liking for cuddles and the cuddies has lost him two hairdressers' shops and countless thousands. Jack should be running his own string of shops, not making money for that peacock Gordon who couldn't sharpen his scissors... in HIS opinion... but in reality he's a small fish in a small pool. The day he grows up will the be the day he realizes he's too old for all this tail-chasing nonsense and that he needs just one true friend more than he needs another notch on his hair straighteners. Until then there's hearts to be broken and husbands to be cuckolded.
Not long after arriving in Shieldinch, Jack did a spot of investigating and discovered that Gordon was Hayley's father. Jack agreed to keep quiet about the secret but he wasn't happy about it, thinking Gordon should tell Hayley himself rather than risk her finding out from someone else. When the shocking truth came out, Jack was a supporting friend to Gordon but also a shoulder to cry on for Hayley.
Jack had a reputation as a ladies' man and got close to Hayley. Their friendship grew, one thing led to another and they began a secret tryst. Jack and Hayley both know that with Jack's history of womanising, Gordon would not be approving. But can true love blossom in the workplace?
John Comerford
John plays Jack Paterson in River City.