Steven Robertson
Steven Robertson plays Constable Sandy Wilson in Shetland.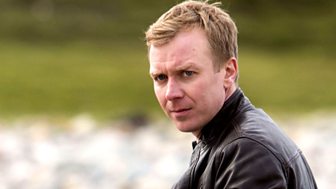 Things have changed for Sandy since the first series - where do we find him this time around?
He's hard-working, good at his job and more than happy to go the extra mile to help the case – I like him, he's a nice guy!

Steven Robertson
Well he's out of the uniform and now he's a detective constable trainee which would see him become a sergeant long term. He's in plain clothes but there are certain things he's not allowed to do because of his rank. But some things haven't changed - he's still the guy in the office with the local knowledge and links.
What sort of person is Sandy?
He is just a chap who wants to get on with his job. He's very moralistic, has a very strong sense of what's right and wrong. He looks after himself but he'll always put his work first. He's hard-working, good at his job and more than happy to go the extra mile to help the case – I like him, he's a nice guy!
You've played Perez before [on the radio adaptation of the drama]. Was it weird to come on board as a different character?
I suppose the only weird thing was I knew much more of Perez's back story than any other which was very useful in a lot of ways. It wasn't strange, it was useful.
And what do you think of Douglas Henshall's depiction of Perez?
There's not really much comparison really! We've depicted Perez in two very different mediums – radio and TV. One of Douglas's great strengths is that he's very visual. Like the book, the information comes to Perez in the TV adaptation. He gets the information and he allows it to filter through his head and we, the viewers, get to see him doing this.
I think Douglas is excellent, he's a joy to work with and I think he really got the whole 'Shetland' thing – he sees it as a beautiful location.
Tell us a little about each story starting with the first two-parter, Raven Black…
It's a tough story with local recluse Magnus [Brian Cox] becoming the prime suspect in a murder. It's a tricky path - Magnus is seemingly incapable of managing his own life but once a young girl is found dead a lot of people automatically assume he's guilty. So Sandy and the team need to be cautious.
The local community are all looking to us to arrest him but we need to make people keep their mind open to the possibility it's not Magnus.
And what about episodes 5 & 6, Blue Lightning?
Set on Fair Isle - because the murder happens on the small island it makes it intense and a small number of suspects are in the frame. While Perez is out on location trying to solve the murder, Sandy's back in the office manning the phones. Hopefully my on-the-phone acting is good!
There are two locations on Shetland I've never been to and that's Fair Isle and Foula and they are places I keep meaning to visit. So when the scripts for this came through I thought "brilliant, I'm off to Fair Isle" but it wasn't meant to be.
And finally the series finale, episodes 3 & 4, Dead Water…
There's an awful lot of misdirection going on. The main storyline is there's an opportunity for a new gas line but there's a lot of local division between those who are pro and against it. And then a murder takes place…
What can viewers expect from the second series?
Brilliant central performance from Douglas, lots of stunning shots of Shetland. Although there was a lot of mist during one of the blocks of filming – I'm told it was the heaviest mist in 27 years up there. Although we didn't always get to see the horizon, what we did get – and for free – was lots and lots of atmosphere thanks to the mist. Even when you're not seeing Shetland at its best it comes across as very dramatic.
There's an impressive cast attached to the second series…
Getting Julie Graham on board is a great move – she brings a lot to the show. She's great to have around and everyone loved working with her. And Nina [Sosanya] is wonderful too. We've really fallen on our feet this year.
Was it good to return home to film again?
Oh absolutely. Aside from the work it was great to catch up with some friends and I even got to shear some of my uncle's sheep, which he was delighted about!
Any memorable experiences from this shoot?
Our locations people needed somewhere out of the way for Dead Water [episodes 5 & 6] with a pier, and my aunt and uncle had the perfect location so we ended up at theirs in Muckle Roe.
Years ago, long before I was in acting, my aunt and uncle along with my cousins made a horror film with me shot in cinefilm down at the same beach we feature in these episodes. The first ever filming I did was on their beach so it's very odd to be back there again all these years down the line.