Greece
Representing Greece are Koza Mostra featuring Agathon Iakovidis with Alcohol Is Free.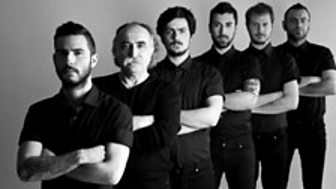 Koza Mostra are the first band ever to represent Greece at the Eurovision Song Contest, and their raucous fusion of Ska, Punk and ancient Rebetiko music should make them an exciting prospect in Malmö.
We're going to Malmö so people can hear us, dance to our music and love us

Koza Mostra
The band comprise of lead singer Ilias Koza, accordion player Christos Kalaitzopoulos, Vassillis Nalbantis on trumpet, guitarist Stelios Siomos and Alex Archontis on drums.
Despite being together as a band for less than a year they have already played over 130 live shows, as well as releasing four digital singles and a debut album Keep Up The Rhythm. Appearing with the band on Alcohol is Free is legendary Greek Rebetiko folk singer Agathon Lakovidis.