Rhodri Owen
If there's one thing Rhodri Owen knows, it's that everyone's susceptible to a scam.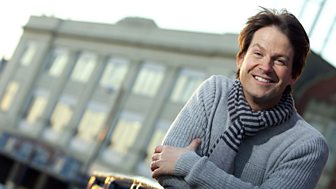 Rhodri's spent most of his career championing consumer rights. He joined the X-Ray team in 2004 - after years working for BBC1 programmes like Hard Cash, 4X4 and Short Change.
"I've been doing consumer journalism for a long time now but I never stop being shocked by the way some companies treat their customers," he said.
"I love getting a result for viewers - but sometimes it's more about exposing the way people are treated as a warning to others."
Swansea -born Rhodri is also one of the faces of S4C's flagship evening magazine show Heno and their afternoon lifestyle programme Prynhawn Da.
Rhodri is married to Lucy and they have a little boy called Gabriel. They've presented X-Ray together since 2007, so they're always on the lookout for consumer stories at work, and at home!
When he's not working, Rhodri's likes relaxing at home with the family. And, when he's feeling energetic, he goes to fitness classes to flip tractor tyres!