Bulgaria
Representing Bulgaria are Elitsa and Stoyan with Samo Shampioni.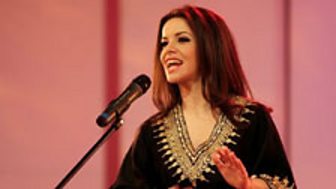 Elitsa Todorova and Stoyan Yankulov are two of Bulgaria's most popular and successful musicians. The pair performed at Eurovision 2007, where their song Voda came fifth - Bulgaria's best place in the song contest to date.
Bulgarian music and our love of our roots and our folklore is the key to our success

Elitsa Todorova
Elitsa was born on 1977 in Varna. She studied music, specialising in traditional folk singing and percussion playing, before forging a career at the State Dance and Music Ensemble in Varna where she performed Bulgarian folk songs, and compositions in Yiddish and Sanskrit.
In 2003 she joined forces with Bulgaria's most popular and renowned drummer and percussionist Stoyan Yankulov, and their act, a mixture of traditional folklore with jazz, drum and bass and spontaneous improvisation, soon became a countrywide success.
Stoyan Yankulov was born on September 10th 1966 in Sofia. At the age of eight he began learning the piano along with various percussion instruments. He soon became the drummer for various rock and jazz bands, and he eventually graduated from university, majoring in percussion.