Jem Merlyn
Charming and enigmatic, Jem Merlyn is the younger brother of Mary's uncle, Joss.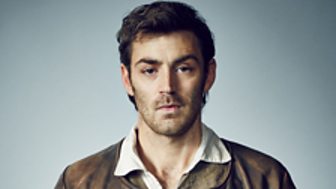 A canny horse thief with a sense of humour – Jem successfully sells a stolen horse back to its owner at market – he is involved in smuggling but on his own terms. Encountering Mary on her arrival at Jamaica Inn, he gifts her one of his horses because he tells her she never knows when she may want to escape. Mary refuses his gift on the grounds that it is a stolen but an uneasy bond is forged. Jem's independent spirit is a match for Mary's own but unfortunately their competing wills often pull them in opposite directions.
Jem Merlyn played by Matthew McNulty
Manchester-born Matthew, while only 31 years old, has had a prolific acting career across both television and film. If there is a television show that you think of as being a staple of the British audience the chances are that Matthew has made an appearance. From Emmerdale to Holby City, Silent Witness to Doctors he has made his mark across many much loved shows. Beyond the television screen Matthew has also featured in films such as Control, the biopic of Joy Division's Ian Curtis, and Ken Loach's Looking for Eric.