Ed Grundy
A major contributor to his mother's grey hair count, the younger of the two Grundy boys has always been a bit of a rebel.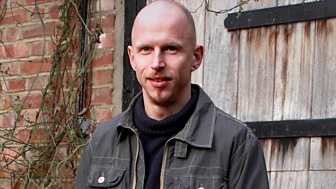 | Fact title | Fact data |
| --- | --- |
| Played by: | Barry Farrimond |
| Born: | 28 September 1984 |
| Status: | |
| Occupation: | Tenant farmer |
| Lives at: | Ambridge View |
| Works at: | Grange Farm |
Being led into the seamier side of life by his friend Jazzer McCreary laid the foundations for his later slide into drink and drugs when girlfriend Emma left with baby George. The bitter feud over them with brother Will left him in what seemed like an irretrievable mess.
His salvation has been Oliver Sterling, who entrusted him with Grange Farm's Guernseys, and eventually the whole farm. Ed reunited with Emma and in 2011 they had a baby, Keira.
Come on Georgie, let's bring the cows in.

Ed Grundy
Likes - His nephew George; the cows; music
Dislikes - Not being George's father
Highs - Getting his life back on track, the birth of little Keira
Lows - Taking to crack after splitting with Emma
Key relationships
Emma Grundy (Lives with)
George Grundy (Bringing up) - Emma originally thought Ed was George's dad. Ed loves him as if he is.
Barry Farrimond
Barry was born and bred in Stratford-upon-Avon and was prone to showing off from a very early age. He also suffered from a mild speech impediment and these two factors urged his parents to send him to elocution and acting lessons.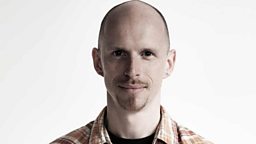 By the age of 12, Barry was treading the boards at the RSC alongside Anthony Sher in Tamburlaine the Great and at 14 was a awarded a place at the Sylvia Young Theatre School. At the school Barry trained in acting, singing and dancing and during his time there he continued to work professionally on stage, screen and radio.
In 1995 Barry was offered the lead in Spring Awakenings, a play by Frank Wedekind, at the RSC's Pit Theatre in a new translation of the play by Ted Hughes. Barry joined the Archers cast in 2000.
As well as being an actor, Barry is a musician. He produces both music and sonic art installations under the pseudonym Brokenman. He received a BA Hons in Creative Music Technology from Bath Spa University in 2006 and has since set up his own company, M.U.S.E (Multimedia Used in Special Education), which specialises in developing new digital technology to allow children with profound and multiple special education needs to access and enjoy music making.
Barry lives in Bristol with his partner Jojo and their beautiful little boy Akira. He plays the didgeridoo, fire juggles and has invented his own knot, the Farrimond Friction Hitch, which can be found on wikipedia.
Other Career highlights
Working alongside the late Ted Hughes for the RSC production of Spring Awakenings was a huge honour, as was being on stage with Sir Derek Jacobi in Macbeth at the RSC (despite the fact that he had me killed every night!)
Archers highlights
Portraying Ed as he tore his life apart after splitting with Emma was a real highlight for me. It was exhausting work and I had to do a lot of research for the story but it was just fantastic to get my teeth stuck into such a well-written, gritty storyline.
Being interviewed by the late, great John Peel at Glastonbury festival was also right up there!
Barry on Ed
not all of us have stolen our brother's wife after years of sporadic joyriding

Barry Farrimond
Ed has had it really tough over the past few years and has not always made the most informed decisions, but how many of us can say that we have? All right, not all of us have stolen our brother's wife after years of sporadic joyriding, cannabis growing and drug abuse before nearly killing ourselves with a cocktail of crack cocaine and cheap vodka because she said she didn't want to live in a caravan anymore - but that's not the point. Once he hit rock bottom, Ed managed to fight his way back up. With a little help from Oliver Sterling he's now completely turned his life around. He's a fighter!
Favourite
Actor - Heath Ledger; diverse, compelling and greatly missed.
Book - The graphic novel Akira by Katsuhiro Otomo. It is the perfect marriage of image and text and was crafted into a film that still stands as the benchmark for Japanese animation. It was also the inspiration for naming my son Akira.
Film - A really hard question; there are just too many fantastic films out there. My favourites include Spirited Away, The Piano, City of God, Wall-e, Monty Python and the Holy Grail, Akira, Saving Private Ryan, Crouching Tiger, Hidden Dragon, The Shawshank Redemption, Forrest Gump, Alien, Requiem for a Dream, Oldboy, Predator… the list goes on and on and on and on....