Rickshaw Challenge 2012: Lauren
Meet Lauren, one of the young volunteers who are taking part in The One Show's Rickshaw Challenge 2012, and find out more about the project supported by BBC Children in Need that has helped her.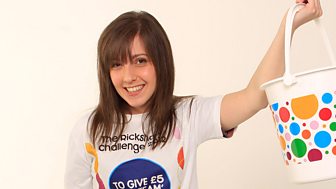 | Fact title | Fact data |
| --- | --- |
| Name: | Lauren |
| Age: | 18 |
| Lives in: | Stirling |
| CiN Project: | PLUS |
More about Lauren
At the age of 11, Lauren was knocked down by a car. She spent 6 months in hospital and was left with brain injury, a broken hip, broken right leg and fractured left arm. Over a number of years, she has re-learned how to breathe, eat, walk and talk.
Lauren is still a bit wobbly, has slow speech and struggles to use the right hand side of her body.
Lauren is a wonderful artist and has created paintings which interpret her feelings.
Lauren's mother will be part of the support team behind the cameras on route during the challenge.
Lauren says "I want to give something back to the charity that has helped me. PLUS has helped me meet new people and make friends with people my own age with similar challenges; and even better is that I go out socialising and have fun with them all as well.
With support anything can be accomplished - look at me now!

Lauren
The people who work at PLUS, which is supported by BBC Children in Need, are a lot of fun, really hearty, and have helped me to socialise and interact with other people.
I'm really excited about the challenge and I want to raise as much money for BBC Children in Need as possible. I'm also looking forward to meeting new friends and completing the challenge. After I got run over I had to learn everything again. At the time the doctors said to my parents that "anything over and above me breathing again you have to be grateful for".
I want anyone in a similar circumstance to know that life isn't over - with some support anything can be accomplished. Look at me now..!"
How your donations have helped Lauren
PLUS is a BBC Children in Need-supported project that helped to give Lauren back her independence. They provide mentors to assist young people at mainstream clubs to help them take part in whatever other young people do.
Every week, Lauren attends the Rock Community Project with support from PLUS and has become a key part of their group.
What 'PLUS' does
PLUS supports children and young people with additional support needs by providing regular opportunities to over 235 children and young adults across the Forth Valley. A key aim for PLUS is to support service users to get out and have fun.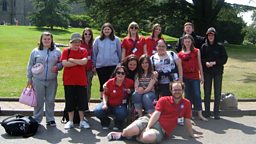 Through BBC Children in Need funding, PLUS is able to recruit and train volunteers to support individual young people to access mainstream clubs and groups.
More on the Rickshaw Challenge