Ola Jordan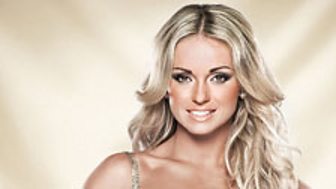 | Fact title | Fact data |
| --- | --- |
| Age | 31 |
| Dance Partner | |
Her professional dance partner is her husband, James Jordan. They have been dancing together for 10 years and turned professional in 2003. Her speciality is Latin American.
I'm fun and bouncy and I think that's exactly what the Samba is all about.

Ola Jordan
Her favourite dance is the Samba. "It's without doubt my favourite dance – it's fast, it's rhythmical and there is so much body movement."
Ola joined the programme in Series 4 and has been paired with DJ Spoony, Kenny Logan, Andrew Castle, Chris Hollins, Robbie Savage and Paul Daniels.
In 2009, in what she describes as ''the best achievement ever'' Ola and Chris Hollins won Strictly Come Dancing. ''To be able to go all the way to the final with Chris, a friend and someone who had never danced before, was such an achievement''. They were nicknamed Team Cola and their relationship was endearing, heart-warming and loved by the nation.
Last year she danced up to Week four with EastEnders actor Sid Owen. Can she make it further with this year's partner, Hollyoaks actor Ashley Taylor Dawson?
Background
Ola was born in Poland, in a small town called Legionowo (near Warsaw). She lived there until she came to England aged 17. Ola's mother is called Janina and her father is called Gariusz. She has one older sister, Monika, who is a pharmacist.
She won the Open Polish Championship in 1999 at 17 years old, and went on to the World Championships where she was placed in the top 12 in November 1999.
Ola split from her dance partner shortly after the World Championships, and was in the process of looking for a new partner when James Jordan phoned her and asked if he could come to Poland and try-out to be her partner. So, in March 2000, James arrived in Poland and they matched perfectly. In April 2000, Ola moved to England.
They started to compete together for a couple of years, and after getting married in October 2003, moved to Hong Kong. They first took part in Strictly Come Dancing in Series 4.
Trivia
Ola is a keen yoga fanatic as it keeps her supple and toned. She also loves shopping as it helps her to relax!