ACC Jim Burns
Burns is the Assistant Chief Constable of the Police Service of Northern Ireland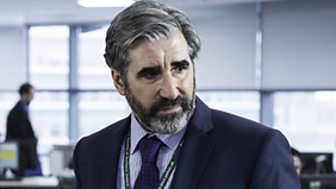 John Lynch plays ACC Jim Burns
Burns, played by John Lynch, is the Assistant Chief Constable of the Police Service of Northern Ireland - the head of Crime Operations. Burns has been responsible for appointing Gibson - an outsider - as head of Operation Music Man. As such, it seems his career will stand or fall on the success of the Task Force.
Viewed from the outside, Burns' decision also looks dubious because of some kind of relationship that took place with Gibson in the past.
Burns has served as a police officer for thirty years, much of that time in Northern Ireland. He has seen a great deal during that time and seems to bear the scars.