Hywel Llywelyn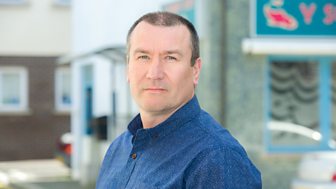 Ci drain y Cwm!
Er fod Hywel i'w weld yn ddyn bodlon a llwyddiannus, un peth mae wastad wedi ddifaru ydi na chafodd gyfle i fagu ei blentyn ei hun o'r cychwyn cynta'.

The village Casanova!
Although Hywel seems like a happy and successful man, one thing he's always regretted is that he never got the chance to raise a child of his own from the very beginning.