Lennart Matsson
Lennart is the new chief of police at Ystad station. He's not yet forty, and has had a rapid career progression within the force - he's definitely not going to be in Ystad forever.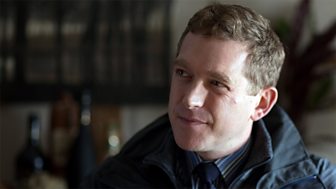 | Fact title | Fact data |
| --- | --- |
| Marital status | Married with two young sons. |
| Qualities | Empathy, patience, organisation |
| Flaws | Lack of humour, caution, ambition |
University-educated, and on the fast track, Lennart is a good policeman and he's well-respected.
Sorry. I realise you want to get this out of your world. But we've got to be realistic."

Lennart
He's not afraid to get his hands dirty, and is good at supporting his officers - particularly Wallander - and recognising when their talents are different to his own.
He's an effective administrator as well as a clever detective, a hard-worker and a sensitive boss.
He loves playing squash and is active in local Social Democratic politics.
Barnaby Kay
Son of Richard Kay, Barnaby Kay was born into a theatrical family in 1967.  He has extensive theatre, television and film credits (from Internet Movie Database).