Ricardo Afonso
ELIMINATED IN THE BATTLE ROUNDS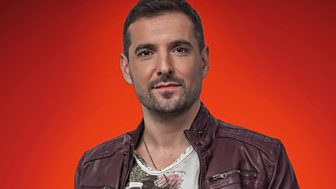 | Fact title | Fact data |
| --- | --- |
| Team | Danny |
| Age | 38 |
| Hometown | Hertfordshire |
| Favourite Voice | Stevie Wonder |
Ricardo moved to the UK from his home in sunny Portugal in 2005, wanting to make it big in the music industry. Back home he was already doing pretty well for himself, singing in clubs and doing voiceover work for some major Hollywood films. Despite never having received any formal vocal or dance training he quickly landed a leading role in 'We Will Rock You'.
This isn't over yet, I can still become a rock star!

Ricardo
Watching The Voice last year made him want to pick up his guitar and start songwriting again - something he hadn't done in 10 years. Ricardo believes taking part on The Voice could be the defining part in achieving his dream...