Greg Rutherford
Olympic 2012 Champion, winning a gold medal in the long jump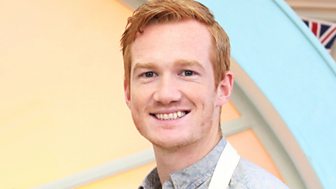 Greg, 26, is a British athlete specialising in the long jump and is the 2012 Olympic Champion, winning a gold medal. Greg is the great-grandson of footballer Jock Rutherford.
I'm nervous, but excited

Greg
Greg's first breakthrough came in 2005 where he won the AAA Championships at 18 years old and set a national junior record of 8.14m.
He jumped his way to the finals of 2008 Beijing Olympics. He was third best qualifier with an 8.16m jump but finished 10th in the finals.
Jumping at 8.32m in Samsung Diamond League USA competition 2011, Greg's performance was placed amongst the top in the world that year.
He entered the London Olympics 2012 as the world's number 1 ranked long jumper. He won gold by jumping 17cm (8.31m) further than his opponents – contributing towards Great Britain's most successful day at the Games in over 100 years.
Baking Experience
Greg is a keen cook and baker but says he doesn't get to do it as often as he'd like to.
Because of Greg's diet (of gluten free and high protein) he doesn't get to eat much of what he bakes. He's started dabbling in gluten-free baking to combat this.
He baked with his mum from a young age and was good at food technology at school so growing up he wanted to be a chef. The closest he came was working in a restaurant (as a waiter) and realising a career in the kitchen wouldn't be as lovely as he'd first imagined.
Says he cooks in general and is never afraid of trying new things in the kitchen.
Bake Off
Greg usually finds baking and cooking therapeutic and relaxing, though he's not sure that will be the case in the Bake Off tent.
Greg watches the show and thinks Paul will be the scariest judge by far. He says older ladies are less intimidating.
This is the first time he's able to take part in anything for Sport Relief.