Shaun & Liz
Friends and quiz night teammates Shaun and Liz bonded over their love of the great outdoors.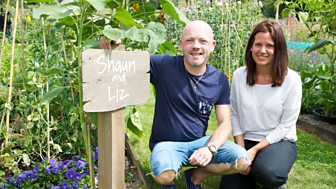 Until recently, experienced gardener Shaun and good natured (but bossy) Liz were work colleagues at a housing association in Ashton-under-Lyne. During her time in the job, Liz set up a gardening club for her workmates and with Shaun's help transformed the outside communal staff area into a beautiful garden.
The pair are great friends outside of work and frequently socialise together. They are both competitive; Liz fiercely so, and this competitive streak makes a regular appearance at their weekly pub quiz, though they admit they very rarely do well in it!
Gardening wise their abilities differ greatly. Shaun, whose mum got him started with growing potatoes as a child, is the main gardener of the two and has a big garden complete with chickens and a vegetable patch. In contrast, Liz has much less dirt digging experience and openly admits that, although she doesn't yet love gardening, her efficient planning should help them achieve great results in the competition.