Martha Costello
Martha is funny, bright and without guile.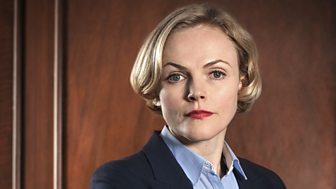 Martha lives for her career which always comes before her personal life. She says what she thinks and doesn't dress it up in legal speak which is rare at the Bar. Clients love her because her honesty and lack of self-importance is a breath of fresh air in Law-land. But her straight-talking sometimes gets her into trouble and she tends to rub the establishment up the wrong way. Not necessarily the best thing when you're a Silk.
In the course of this series Martha begins to question herself; what she does, why she does it and why she believes in it. For the first time we see Martha truly vulnerable and disillusioned – glimpsing beneath the battle armour she wears so well.
As Martha negotiates her own feelings towards the law, she finds herself privy to other people's secrets, a growing pressure on her as she struggles to know what to do with the knowledge. When her two worlds collide dramatically, what decision will she make in the battle for her soul?
Maxine Peake
Maxine graduated from the RADA and has appeared in numerous television and stage productions including Shameless, Dinnerladies, Early Doors, See No Evil, Confessions of a Diary Secretary as well as Hancock and Joan.
She has also appeared in the BBC adaptation of Little Dorrit and Channel 4's The Devil's Whore as well as Criminal Justice 2 and The Secret Diaries of Miss Anne Lister. More recently she has appeared film productions such as Clubbed and Red Riding and BBC Drama The Village alongside John Simm and written by Peter Moffat.
Maxine has recently joined the Manchester Royal Exchange as an Associate Artist and will be starring in a radical reimagining of Hamlet in Autumn 2014.
You can also watch Maxine Peake in the short comedy film Would Like To Meet, available on the BBC Film Network website.