Nick Bright
A little bit about Nick Bright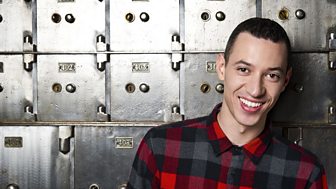 Where were you born?
Carrot cake, I lurrrrve carrot cake

Nick Bright

Mayday Hospital, Croydon
Your favourite hobby as a kid?

As a kid I loved pretending I was people from TV shows, I had an obession with the green ranger in the Power Rangers as well as Michelangelo from Teenage Mutant Ninja Turtles!
How you got into being a DJ/presenter?

When I moved to Portsmouth I started doing music technology at college, whilst there I got a guest spot on a local station (as an MC!!) and after I went on the show they couldn't get rid of me! 

Your biggest influence?

My brother, as an MC and massive hip hop head himself I used to listen to all his CDs and tapes (I know!!). That's how I was first introduced to the music I love, after him...probably the internet!
What's your biggest achievement so far?

My biggest achievements to date are graduating from university and getting my break on 1Xtra of course!
Key tune that you love or inspired you

Eminem - Lose Yourself from the 8 Mile soundtrack is probably one of the most motivating records of ALL TIME!!
What is your favourite lyric?
The pound is stronger than the dollar, holla! - Sway Dasafo
What is your dream gig or collaboration?

I don't have a dream collaboration but I am over the moon to see more UK artists teaming up with US heavy hitters like Skepta & Diddy & Tinie Tempah & Snoop Dogg, long may it resume please!
Three rules you live your life by

Be yourself, Speak up and most importantly Never say never!
What would you do if you were a woman for a day?

Try to understand why women look at the same thing a million times in a shop....what's that all about??!!
What's your weakness?

Carrot cake, I lurrrrve carrot cake
What's the most expensive thing you've ever bought that's not a house?

My car, it's not even that expensive but I'm a cheap guy and I don't spend loads of money...I'm a saver!