Scarlett Mullen
Scarlett Mullen is a brassy, streetwise survivor. Always quick with a witty line or cutting put-down, Scarlett is a great laugh down the pub, but behind this good-time girl front lies one of the quickest brains in Shieldinch.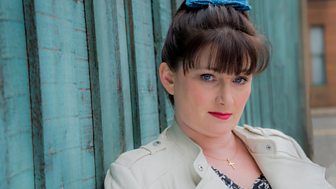 Principled and loyal, Scarlett takes no prisoners when it comes to protecting those she loves, especially her family. In the past, Scarlett had little luck with men. First husband, Paddy, was an abusive bully, but in Jimmy Mullen she found true love and a second chance at happiness.
Scarlett possesses a strong maternal streak. Mother to Kelly-Marie, Bob, Stevie and little Madonna, Scarlett would fight tooth and nail for her kids. No more so than when her "bubba" Bob discovered he wasn't her son but her nephew. Forget blood being thicker than water, for Scarlett love is the tie that binds.
The exception to that rule is Patrick Adams, her stepson. His arrival in Shieldinch made her face up to the fact she'd put him in care. When she learned of his abuse there, she was shamed even more. Now that Kelly-Marie and Callum have left, she is determined to be there for Patrick, Bob and Madonna. With Jimmy in prison, they've only got her.
She agreed to Jimmy's request for a divorce, and promised to service his £15g debt. Inspired by Alasdair's 'herbal' tea, she set up a weed operation with Pete.
Lenny Murdoch is the reason Scarlett's in this mess. He's why a pregnant Kelly-Marie fled Shieldinch, he's at fault for Jimmy's imprisonment and his allegations of paedophilia pushed Patrick to attempt suicide. So when Scarlett learns Madonna has seen Lenny with a gun, she's determined to have it out with him. Admitting to pulling the trigger once and claiming to have hit the wall, when Lenny is found having been shot in the back, Scarlett has no alibi…