Jennie Gow
Jennie Gow reveals some of her favourite F1 moments and predictions for the 2013 season.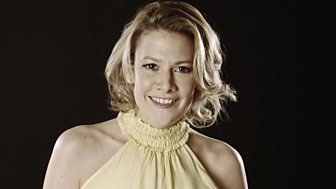 Who do you think is the best driver of all time?
There have been so many amazing drivers - I think Jim Clark was very special and his titles in 1963 and 1965 were fantastic achievements. Much like many of the greatest drivers he died too young to live to his full potential. However, I have to mention Ayrton Senna - what a talent and what a racer.
Which is your favourite F1 circuit?
I have to say I loved Austin, I went there last year all set to see a chaotic and disappointing weekend unfold, but it was brilliant. The circuit, the weather, the people and the quirky atmosphere of the place. It was a real experience from the moment we got there, and a pretty impressive race too.
What's your first memory of F1?
I think I used to make cardboard box racing cars when I was a kid. It's strange because no one else in my family had a love for motorsport but I just always have. I love driving and I love watching talented people drive. My first memories are of Nelson Piquet, I liked the name, and the 1984 season battle between Prost and Lauda. I seem to remember the race at Brands Hatch and watching it on TV.
What's the least glamorous thing about your job?
The weather. I stand in it, get wet in it, look a fright in it and sometimes lose the ability to speak in it. I seem to take rain with me wherever I go.
And the most?
I work in F1! It's the thing dreams are made of. This can be the most glamorous place in the world at times as Fernando Alonso struts past you with his shades on, Jenson Button and his gorgeous model girlfriend hold hands walking down the paddock, Lewis Hamilton takes his puppy for a walk and Sebastian Vettel tells us what he has named his car. All glamour, when it's not pouring with rain and I'm not soaked to the skin.
Who is your prediction to win the driver's championship - and why?
I've gone with Kimi Raikkonen. He was so close last season and with a touch more reliability and speed I think he is unstoppable. I think he is a fans favourite as well and it would be great to see someone other than Vettel win this season - just to mix things up a bit.
And the constructor's title?
Mercedes have a good chance if they can keep on track with developments through the season, and not focus too much on the 2014 season.
What's your most embarrassing on air moment?
I'm not sure if I can say - I have two. They are both rude but not deliberately. The first was when I was interviewing Colin Farrell at the Montreal GP in 2011 and the second was on the grid at Spa 2012 and I managed to lose the person I was meant to be interviewing, so I was forced to fill frantically and just speak until I could see her. Unfortunately what came out of my mouth was a bit of an innuendo and when it was pointed out to me I was so embarrassed.