Russia
Representing Russia is Dina Garipova with What If?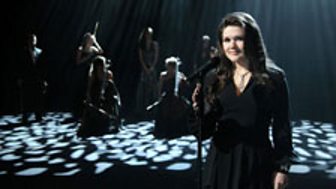 No stranger to competitions, Dina Garipova was the winner of The Voice in Russia, triumphing in the final after an incredible 1 million public votes. It was off the back of this talent and popularity that Russian Broadcaster Channel One, chose Dina as their Eurovision hopeful in 2013.
I'll do everything I can to turn in a good performance and leave a favorable impression of my country!

Dina Garipova
Born in the Republic of Tatarstan in 1991 Dina's music lessons began at the age of six, and soon after so did her success in singing competitions', winning the Firebird Russian National Song Contest in 1999, the Republican Festival Constellation in 2001 and the International Contest in Estonia in 2005.
On her participation in the 2013 Eurovision Song Contest, Dina says: "I'd worthily like to represent my country at the Eurovision Song Contest, to sing the song in such a manner that would touch people's hearts".