Doon Mackichan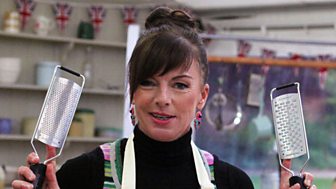 Doon, is a British actress and comedian best known for writing and performing in the Channel 4 comedy show Smack the Pony. Doon lives in South London, with her three children.
I'm not a baker. I use supermarket mix kits when baking with my daughter

Doon
Doon wrote and appeared in Chris Morris's satirical spoof news show 'The Day Today' - as the vacant 'Collatallie Sisters' and his controversial spoof current-affairs show 'Brass Eye'. She has played a range of characters for BBC Radio 4's comedy series Doon Your Way and has starred on BBC's dark domestic comedy Bedtime. Most recently, she has appeared in BBC Four's Quick Cuts and ITV2's comedy series Plebs.
She has also previously taken part in Comic Relief does Fame Academy.
Baking Experience
Doon hasn't made a cake for 20 years. She's not a baker.
She was expelled from cookery class aged 11 for going round the class and sticking her finger in everyone else's dough so that theirs didn't work. She also refused to tie her hair back.
Doon, doesn't like recipe books, winging it is her style. She gets by with lots of garlic and chilli. Puddings are not her thing.
The Bake Off
Her goal is to get a couple of good bakes under her belt so that she can add them to her repertoire.
She isn't very competitive BUT she couldn't handle Mary and Paul calling her bakes "bland".
The showstopper sounds hilarious to Doon; it'll either look like a derelict falling down car park or her "own wild perfection".