Edith Bowman Profile
A little bit about Edith Bowman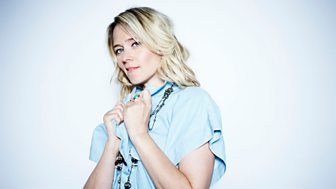 Edith Bowman presents Radio 1's Review Show (Tuesdays 9pm-10pm), where each week she hosts a guest panel who discuss all the latest new music releases.
Edith hails from Anstruther, Scotland. She worked in her parent's hotel before going to college and studying for a degree in Communication Studies at Edinburgh's Queen Margaret College. For the following two years Edith worked in a local radio station as both a producer and presenter.
Edith joined Radio 1 in 2003 to co-host the Colin and Edith show with Colin Murray. Since then she has flown solo, presenting the weekday afternoon show on the network and more recently has been the voice of the weekend breakfast show. Edith's shows were the place to find out everything you wanted to know about movies - during her career at Radio 1 she has heard from some huge movie stars including Will Smith, Angelina Jolie, Leonardo Di Caprio, Shane Meadows, and Emma Watson to name a few.
Edith has annually hosted the BBC's television coverage of Glastonbury, Reading and Leeds and T in the Park Festivals and the Radio 1 One Big Weekend. She is a massive music fan and fanatical gig goer and has described working at Radio 1 as a "Childhood Dream." Prior to Radio 1 she co-presented MTV's Hitlist UK with Cat Deeley.
Most recently Edith presented The Vue Film Show on Channel 4 and the Bafta coverage for BBC3. She is also a columnist for Clash magazine.