Merry Xmas Everybody
Slade's pop masterpiece - chosen by listeners as our 50th song!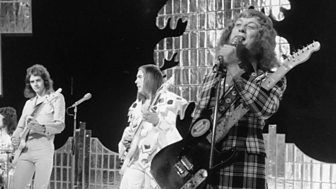 | Fact title | Fact data |
| --- | --- |
| First released: | 7th December 1973 |
| Written by: | Noddy Holder, Jim Lea |
| First recorded by: | Slade |
| Cover versions by: | Noel Gallagher, The Spice Girls, The Mission, Tony Christie, Glenn Gregory, Girls Aloud, REM, Westlife |
Synopsis
Was there ever a better year for Christmas hits than 1973? Surely when we wryly jest about the perennial race for the number one slot and its supposed importance we're sharing a collective race memory of the year that Slade battled it out with not only Wizzard (with 'I Wish it Could be Christmas Everyday') but also Elton John (with 'Step Into Christmas')?
It's Chriiiistmaaaassss!

'Merry Xmas Everybody'
Written in the midst of a recession that makes any of our recent economic woes pale into insignificance, Noddy Holder and Jim Lea's greatest gift to us in song-form shines with an optimism that shrugs off a British landscape filled strikes and power cuts; all encapsulated in that great line: 'Look to the future now, it's only just begun.' And let's not forget that the band themselves had just come through a tragedy of their own, when drummer Don Powell was put in a near-fatal coma following a car crash.
Slade were, at this point, one of the biggest bands in the UK, with several number ones under their belt, so the success of 'Merry Xmas' was pretty well assured, but in the ephemeral here-today-gone-tomorrow world of pop it remains a remarkable achievement. Can you name anyone who truly, actually dislikes it? And critics and fans alike still regard it as THE greatest yuletide hit of all time.
Noddy's lyrics (written appropraitely at his mum's in Walsall) speak of childhood joy, family get-together's all mixed up with a typically Slade-ian tongue-in-cheek rudeness. It was a recipe that almost single-handedly sums up The People's Songs' unfolding story of the British people in song: our ability to use music to cheer us through bleak periods of austerity, our love of a good old knees-up and of traditional values and even our propensity for embracing grown men who dressed in tin foil and high heels.
Of course, Slade's brand of glam was a far more working class, butch proposition. But at the core of 'Merry Xmas Everybody' was a solid gold tune (apparently based on a much earlier tune by Noddy called 'Buy Me A Rocking Chair' written in 1967) topped off by Jim Lea's irresistibly catchy chorus. And when Noddy's raucous cheer of 'It's Chriiiiiistmassss!' rings out, you'd have to be some kind of super Scrooge to not feel proud to be British. And that's obviously how you, our listener's feel too, because it's been chosen as the perfect end to this historic series. Let's look to the future now…