Rock Island Line
The folk song that began the skiffle craze!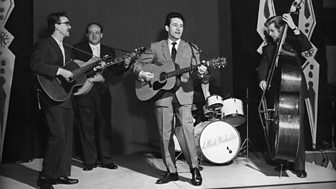 | Fact title | Fact data |
| --- | --- |
| First recorded: | 1934 |
| Written by: | Kelly Pace/Traditional |
| First recorded by: | Inmates at Cumins State Prison farm, Gould, Arkansas |
| Also recorded by: | Lead Belly, Lonnie Donegan, Pete Seeger, Ringo Starr, Johnny Cash, Bobby Darin, Mano Negra, The Weavers, Stan Freberg, Harry Belafonte, Graham Bonnet |
Synopsis
The origins of this song possibly stretch back further than any other featured on The People's Songs. First recorded by John Lomax in 1934 by inmates of an Arkansas Prison, this was a 'work song' that was immortalised by Huddie 'Lead Belly' Leadbetter, the blues and folk legend, in 1937. The song details the route of the Chicago, Rock Island and Pacific Railroad which ran from 1847 to 1980 and tells the tale of how drivers lied to dodge paying a toll while crossing the Southern States.
You gotta ride it like you find it, get your ticket at the station on the Rock Island line...

Rock Island Line
This authentic American Folk song took on a new meaning when it was picked up by British singer Lonnie Donegan. Recorded at a fiercer tempo in 1954 by Donegan (along with Chris Braber's trad jazz band), when it became a hit in 1955 it came to epitomise the start of what was known as 'Skiffle': the stripped back musical aesthetic that saw bands springing up across the land utilising little more than a cheap acoustic guitar, accompanied by a washboard and tea chest bass rhythm section.
Simple blues and folk tunes like this, using only three chords, were perfect for Donegan and his followers to adapt. Suddenly a rawer DIY ethic was all the rage, and a whole generation of kids who would subsequently become rock 'n' roll stars were taking up music. This was punk music years before the term was coined.
Many purists balked at Donegan's failure to credit Lead Belly (for his arrangement) but if Lonnie and his ilk hadn't popularised material like this it's doubtful if we'd ever have had The Beatles, The Rolling Stones or any of the great British rock that emerged in the following ten years. Donegan's hit paved the way for our adoption of a forgotten American art form which, in turn, led to the 'British Invasion' of the USA a few years later. 
Ancient and modern versions of the classic folk tune