Joe Crowley
Joe Crowley is a roving reporter for The One Show, where he regularly presents reports from across the country as well as appearing live in the studio and on location.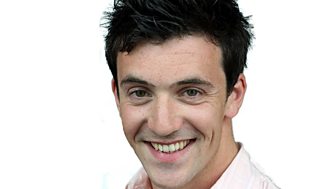 | Fact title | Fact data |
| --- | --- |
| What would be the ONE meal you could not live without? | You may not regard it as a meal but for me going without coffee & donuts would mark the end of civilisation as we know it |
| What would be the ONE thing you could not live without? | I think it would have to be a piano. I don't play as much as I used to, which is a bit sad, but as long as I live with a piano then I live with the hope that one day I'll play regularly again |
| What would be the ONE thing you would take to a desert island? | It would be a.... fishing rod! Not only would it help feed me - and I do love seafood - but I must admit I actually enjoy it |
| What ONE surprising fact do you have that our audience should know about you? | I don't like cooked apple. I don't know why, that's just how it is. And it always seems to raise a wry, mocking smile at family Sunday lunches when crumble is being served |
Joe has a history degree from Cambridge University and a post-graduate diploma in Broadcast Journalism from City University, London.
He plays the piano and the violin; sings loudly; loves theatre; relishes the great outdoors; and enjoys travelling the world. A keen footballer, scuba diver and fisherman, Joe is eager to take on any and every challenge!
Professionally, Joe's work for Inside Out South saw him nominated as Young Journalist of the Year at the National RTS awards and earned him the Regional TV Personality of the Year gong at the RTS Southern Awards.
For The One Show Joe has reported on the restoration of a Downton Abbey style Victorian kitchen, he's explored the vast underground fuel stores in Invergordon, NE Scotland, and visited the Friends School in Lisburn, County Antrim, which made a name for itself online with its lip dub song.