Finland: Tommi Hakala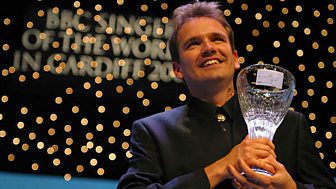 Winner, BBC Cardiff Singer of the World 2003
Born in Riihimäki, Tommi studied at the Sibelius Academy in Helsinki before moving to Germany to continue his training at the Staatliche Hochschule für Musik, Karlsruhe.
He has won several prizes including first prize in the Finnish Merikanto Competition in 2001.
A member of the Leipzig Opera since 2001, his roles have included Ford Falstaff, Rodrigo Don Carlo and Wolfram Tannhaüser.
Directly following the Competition he sang Marullo Rigoletto and the baritone solo in Carmina Burana at the Savonlinna Festival.
In 2003/4 Tommi was due to perform as the Count Le nozze di Figaro, Man from Minsk The Flight (Jonathan Dove), Germont La traviata and Chorèbe Les Troyens, all in Leipzig.
Tommi enjoys being with his family, looking after his German shepherd dog and reading.
Singer of the World with Orchestra Concert 1 repertoire
Gounod: Avant de quitter ces lieux, Faust
Bach: Grosser Herr und starker König, Weihnachts Oratorium
Verdi: Son io, mio Carlo - Per me giunto, Don Carlo
Rosenblatt Recital Song Prize Concert 4 repertoire
Kuula: Sinipiika, Op 23 No 1
Kuula: Karjapihassa, Op 31 No 2
Kuula: Ave Maria, Op 23
Pfitzner: Sehnsucht, Op 10 No 1
Pfitzner: Müde, Op 10
Pfitzner: Abendrot, Op 24
Final repertoire
Mozart: Hai già vinta la causa!...Vedrò mentr'io sospiro, Le nozze di Figaro
Wagner: Blick' ich umher in diesem edlen Kreise, Tannhäuser
Verdi: È sogno? O realtà, Falstaff