Emily Adams
Eliminated at the Quarter-Finals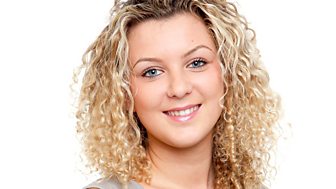 | Fact title | Fact data |
| --- | --- |
| Age | 18 |
| Hometown | Blackpool |
| Favourite Voices | Beyonce, Christina Aguilera |
"I've been singing since the age of 6 and the first time I sang publicly was on a family holiday in Cornwall and I sang 'The Sun Has Got His Hat On' and I won the talent competition.
The Voice would become my number 1 priority

Emily
The reason why applied for The Voice is because I feel that now is the right time for my signing to really excel.
This competition is a window of opportunity for me, and if I were to get far in the competition it would mean the world.The Voice would become my number 1 priority - I can't wait to chuck myself fully into it"
DO YOU HAVE ANY BAD HABITS?
I speed because I'm usually always late!!
WHAT'S THE BEST THING YOU'VE EVER DONE?
Probably win NODA awards and win 2 national Hockey finals
ANY PHOBIAS?
Spiders!! Ewww..
WHAT'S YOUR MOST EMBARRASSING MOMENT?
I was gigging and through the instrumental bit of the song, someone made me laugh and I snorted right down the mic!! Oooops
DESCRIBE YOUR PERSONALITY IN 3 WORDS
Bubbly, loud, excitable.