Rosalind Burnell
The very proud wife of Richard Burnell.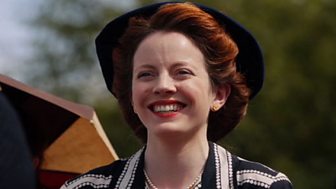 Rosalind also comes from a family of Olympic champions and understands what it will take for her husband to win the gold. Like all the athletes, Dickie must make his own shorts for the competition, a task that Rosalind takes very seriously (even offering to put a flag on them!).
Alexandra Moen
Alexandra studied English at Leeds University before training at the London Academy of Music and Dramatic Art in London. She is best known for her television roles in Babylon, Tripping Over and Doctor Who.
She has also appeared opposite actor David Tennant, on stage in a 2005 production of Look Back in Anger.