Caroline Warwick
"CW": A big deal prosecutor, with a very successful practice of heavy, classy work.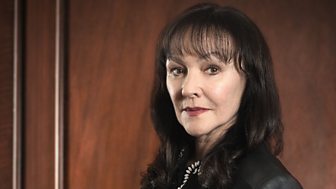 Nicknamed "Lady Macbeth" for her uncompromising and vicious approach in court, she's as sharp as sharp can be and frightened of nothing. Now a member of Shoe Lane, CW is determined to get the bigger cases but can she hack it?
Seemingly stuck with sex cases, she wants the increased money and power more high profile cases bring. CW throws her hat into the ring when the chance to become Head of Chambers appears, opening up the options and aligning herself with an unlikely ally.
But is she really an option when her reliance on alcohol continues to grow?
Frances Barber
Frances has worked in a string of award-winning productions for the National Theatre and the Royal Shakespeare Company, taking roles as diverse as Eliza in Pygmalion and Lady Macbeth in Macbeth.
Among her film appearances are roles in Prick Up Your Ears, Sammy and Rosie Get Laid, Secret Friends, Shiner with Michael Caine, A Zed & Two Noughts, Soft Top Hard Shoulder and Still Crazy.
In 1997, Frances was nominated for a Laurence Olivier Theatre Award for Best Actress in a Supporting Role for her performance in Uncle Vanya.
Frances has also appeared in many TV productions including Great Expectations, We'll Take Manhattan, Death in Paradise, Doctor Who, Midsomer Murders, Law & Order UK and Trial & Retribution.
Most recently Frances appeared in the critically acclaimed all female Julius Caesar directed by Phyllida Lloyd in both London and New York.