Alistair Lloyd
A good man but prone to periods of gloom and possessed of an addictive nature, Ambridge's resident vet is often his own worst enemy.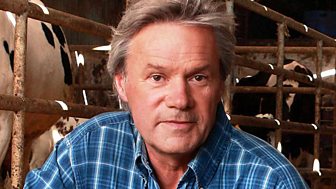 | Fact title | Fact data |
| --- | --- |
| Played by: | Michael Lumsden |
| Status: | |
| Occupation: | Vet |
| Lives and works at: | The Stables (His surgery is also on the premises) |
Alistair dug deep to find resources to overcome the difficulties caused by his compulsive gambling habit. It nearly cost him his livelihood and his marriage to Shula, and he has had to rebuild both.
Late in 2011, Daniel's girlfriend took a shine to him. He had to persuade first Shula and then Daniel that he didn't reciprocate Erin's feelings. She's not Daniel's girlfriend any more...
I'll have to go, there's a cow in trouble in Penny Hassett.

Alistair Lloyd
Likes - Cricket, football, tennis, gambling (too much).
Dislikes - Family duty visits, the dark days of winter
Highs - When Daniel first asked Alistair instead of Shula to read his bedtime story.
Lows - Almost letting Matt Crawford blackmail him into tampering with a racehorse; having to mortgage the house to pay gambling debts
Michael Lumsden
Michael was born in Rutland, the smallest county in Britain, in Uppingham, where his father was a Housemaster at Uppingham School. When his father retired, the family moved to Yorkshire for a while and then to London where he has lived ever since.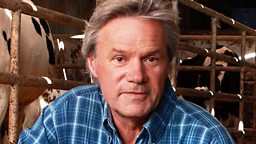 He read Modern and Medieval Languages at Cambridge, where his passion for theatre blossomed. He followed his degree with a postgraduate acting course at Webber Douglas Academy of Dramatic Art. Initially enrolling on the one year course he was later awarded a scholarship allowing him to complete the full course.
After drama school, Michael spent a year travelling around the country performing Shakespeare in schools alongside William Gaminara who, 20 years later, would play Richard Locke, Alistair's rival for Shula's affections in The Archers!
Throughout the 1980s Michael worked continually, touring and working in reps up and down the country. This included a long spell at the Victoria Theatre in Stoke-on-Trent working with Peter Cheeseman on his legendary documentary theatre pieces. While working in repertory Michael once played Thomas More in A Man for All Seasons, Toby Belch in Twelfth Night, and the back end of the horse in the Christmas pantomime, all in successive weeks!
In 1991 Michael finally put his language degree to use – though maybe not in the way his tutors would have hoped! He took a year's break from the theatre and worked as a sports commentator - describing live British horse and greyhound races in French to listeners in Europe!
In 1993 he landed the part of George Cole's son-in-law Brian in two series of Bob Larbey's My Good Friend for ITV. Michael has made regular TV appearances throughout his career, including a spell as the headteacher of Brookside Comprehensive, children's series Bernard's Watch for ITV, and the BAFTA winning Pig Heart Boy for the BBC.
Michael started to work in radio drama in the mid 1990s, playing lead roles in many of the old Monday night 90 minute plays. Many of these were recorded at the BBC studios in Birmingham at Pebble Mill where The Archers was then recorded. In late 1997 he was invited to audition for the part of local vet Alistair Lloyd and has enjoyed enormously being a part of the Ambridge family ever since. Michael's voice may also be known to TV viewers as he often narrates TV documentaries.
Michael lives in South West London with his partner, actress Sarah Neville. They have two children, Emily and Gabriel
Archers highlights
Back in the early days the love triangle with Richard, Alistair and Shula was great fun to play – even more so because we had no idea how it was going to end. And of course it was great to be reunited with Willie Gaminara twenty years after we had first worked together!
The love triangle with Richard, Alistair and Shula was great fun to play.

Michael Lumsden
The two gambling stories have been challenging too…!
Favourite
Actor - I'm not a big fan of the celebrity syndrome. I really admire the actors who crop up regularly doing all kinds of different things and always give fantastic performances. People like Bill Paterson, Ken Stott or Oliver Ford Davies.
Book - The Hotel New Hampshire by John Irving - made me laugh out loud and then cry floods of tears within minutes of one another. What more could you ask for?!
Film - Some Like it Hot - not a very original choice but I watched it again recently and it's just joyous...I also love a French film called La Nuit Americaine by Francois Truffaut (its English title is Day for Night). It was made in the 70s and won an Oscar for best foreign language film. It's a wonderful homage to film-making and again it's funny, sad and uplifting and always reminds me why I wanted to be an actor.