Peter Brush
Congratulations Peter! How does it feel to be a finalist?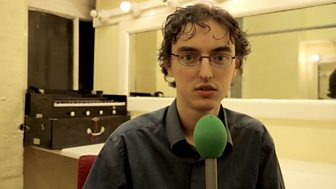 It feels very flattering. I'm pleased. Not sure what else to say here. I'm definitely not unhappy about it at all.
My favourite bit so far was after the results of the semi-finals when I was finally able to eat a sandwich.

Peter Brush
Why stand-up comedy?
I don't really think of the actual 'doing' of stand-up as being a scary experience unto itself, not anymore, though it did take me a while to pluck up the courage to first start doing it. The way I feel now, it's more that I think you're sometimes faced with gigs that are more nerve racking or 'scary' than others, but I've decided that this is what I'm doing now, so I guess I just have to deal with it.
There are loads of reasons why I started stand-up, I don't think there is a definitive one. I remember used to watch Seinfeld when I was quite young and wouldn't understand the references, but I thought the comic's lifestyle was very romantic and that may have some bearing on it.
I also like thinking of jokes. I like creating these things of my own from nothing, the process is quite difficult at times, each joke you write is like a puzzle, but once you get them to work... well then I'm extremely proud.
Tell us about your first gig
I managed to somehow get a spot on a pro bill at an arts centre gig. It wasn't terrible, for first gig standards. I mean, I got a couple of laughs, that's success enough for a first gig. I probably shouldn't have been on the bill though, I wasn't ready for it at all.
Why did you enter the Award?
I entered because I thought that it would help my career. That's basically it. I've seen the list of alumni, it's very impressive. I want to have a life career in comedy after all, and to have the BBC backing me, or even just aware of me is bound to be some help. It isn't just stand-up of course, I have other things I'd like to write or develop further in the future.
Basically, I think we can work well together.
What's been the highlight so far?
My favourite bit so far was after the results of the semi-finals when I was finally able to eat a sandwich. I'd been a bit nervous before the show and so wasn't able to consume anything for hours. Although of course, all the audiences, the BBC crew, the acts and judges have all been wonderful as well.
What can the BBC Radio 2 listeners can expect from your performance at the live final on Monday 9th December?
I have decided that my set at the live final will be mainly joke based, as this has served me well so far.
Do you have a secret skill or punchline you'll be unveiling at the final?
I am a fantastic mime artist, which you may not expect. I have worked on perfecting this for the final, but, fool as I am, forgot that this may not transfer as well to the radio audience. I will instead throw perhaps one or two routines in that I haven't performed in the Award as of yet.
If you win, what will you spend the £1000 prize money on? Do you have any plans for your own radio show?
What a question. I mean, this is a real tease of a question. What would you do with this fantastic prize which statistically you have only a one in six chance of getting? To be honest, I've tried not to think about it too much. I don't know whether to spend the money on one big thing to make some kind of grand winner's statement, a pony for example? I don't want or need a pony, but if you say you're going to use monetary winnings for practical things like utility bills you sound very dull. I need a holiday probably, and my car needs a valet, and the council tax is due, so maybe a mixture of things.
In terms of the show, I have sketches I've written over the past couple of years I think would transfer very well to radio, I've love to develop some of these further. They mainly revolve around existential woe, but I did write one about scarecrows as well.
Finally, why should people vote for you as the winner of the BBC Radio New Comedy Award 2013?
You should vote for me if you liked me the best. I don't know what your reasoning would be here people, but whatever it is, just go with that.