Selling your music
Once you've made your masterpieces, start reaping the rewards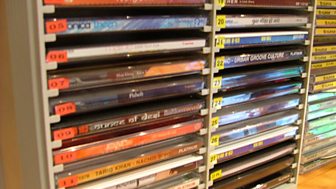 Digital sales
On sites like Overplay you can decide how much your tracks are sold for and how often you want to be paid – without being hit with extortionate fees. You can also sell your merchandise here too.
As previously mentioned there are also plenty of sites that will take your music and get it onto online stores like iTunes, Amazon, Spotify and Deezer. The great thing is you keep all the royalties from sales and still own the rights to your music. Often all they ask in return is a subscription or one-off charge. Popular ones include SongCast and Tunecore which not only covers tracks but videos too. Some major retailers also have specialist sections just for new acts such as 7Digital's Indie Store.
Physical sales
It can take a little while before you start making enough money to cover your initial outlay, so make sure not to press too many copies - you may not sell them all. Although physical sales of music are decreasing, you can still make money out of them if you're smart about it.
To start with, you've got a couple of options available. You can take your records to local record stores and try to persuade them to stock them on a sale-or-return basis, meaning that they'll only pay you for the ones they've sold and give you back the rest. You can also sell your CDs online through your website or social networking profile, but you'll get more exposure if you can sell them through a musician's community or an online retailer like Play or Amazon.
Distributors won't buy albums off you in bulk; you have to send your stock to their office or warehouse and they'll try to persuade shops to stock them for you. When a shop sells a copy, they'll pay the distributor after taking their cut. The distributor will then pay you, having taken their margin. It can be a while before you see any money from sales. Don't forget to try and sell your CD's at gigs, if they like your act they are likely to buy one.
If you want to cut out the middle man you can also sell your CDs online via independent stores online like CD Baby or specialists like UK Record Shop.
If you're shifting a fair few copies you may want to get your CDs duplicated and printed professionally. Not only can it save you a lot of time and hard work but can give you a better looking product. You can do it simply online at places like Disc Wizards, Little Bazaar, Quickburn or Amstore.
Making it pay
However you decide to sell your material take every opportunity to plug what you're selling at gigs, online and in press releases. Record sales aren't the be-all and end-all of a career in music, and you may find that you can earn a decent wage from alternative funding and gig revenue.
Whatever you do, don't be disheartened. If it stops being practical to have a job in the music industry, keep it as a hobby - do whatever you need to do to stay happy and creative. People can get their big breaks at any age and from any background, so keep plugging away and you never know where you could end up.
From starting out to recording, playing live and choosing a record deal - all the advice you need is here