Peggy Woolley
Very much a traditionalist, Peggy's always made her opinions known to her children if she felt they were contravening her strict moral code.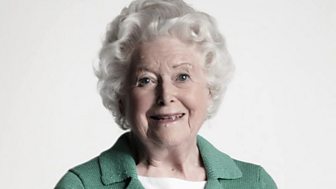 | Fact title | Fact data |
| --- | --- |
| Played by: | June Spencer |
| Born: | 13 November 1924 |
| Status: | |
| Occupation: | Retired publican |
| Lives at: | The Lodge |
After her first husband Jack Archer succumbed to the ravages of gambling and alcoholism, she waited a long time to find her true heart's desire. It wasn't until 1991 that she married Jack Woolley and began to look forward to a blissful retirement.
All was going according to plan until Jack was diagnosed with Alzheimer's disease, which brought her a long and difficult period as his carer.
When she had a stroke in 2008, Peggy reluctantly realised that as Jack deteriorated further he needed residential care. She was a very frequent visitor to The Laurels until his death.
I want to do what's best for the family

Peggy Woolley
Likes - Church on a Sunday (as long as the vicar's not a woman), cats, her garden
Dislikes - Mobile phones, loud music, slack standards
Highs - Triumphantly sending Jack's daughter Hazel packing when she came looking for money and control
Lows - Finally to accept that Jack needed residential care, his death
June Spencer
June Spencer joined The Archers in May 1950, having been a regular broadcaster since 1943.
She is now a widow and lives in a small friendly village in Surrey. She has a daughter. Her Grand-daughter, the only child of her late son lives in Australia.
She was made an OBE in 1991.
In June 2010 she was made a Freeman of the City of London, and her autobiography The Road to Ambridge was published in September of that year.

June wins a lifetime achievement award
Other career highlights
TV – Guilty Party, Doctors, numerous Songs of Praise.
And Desert Island Discs.
Archers highlights
It was a great pleasure to record scenes at the Chelsea Flower Show and receive the Ambridge Rose.
Jack and Peggy's wedding was an exciting time. Recording at the Queen Mother's birthday pageant in the Horse Guards Parade was also a red letter day for Jack and Peggy.
June's thoughts on Peggy
Peggy is a strong-minded woman reflecting the character of her late mother 'Mrs P'. She also has a softer side, loving and loyal. She doesn't have a great sense of humour and has very strong principles.
Favourite
Actor - Philip Glenister – a good all-round actor with an attractive personality.
Book - Birdsong by Sebastian Faulks
Film - Laurel and Hardy's Way Out West