Jacqui Oatley
Jacqui Oatley fronts Late Kick Off in London and South East England.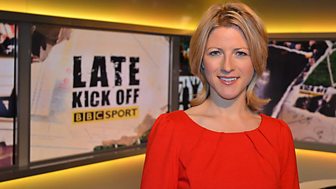 About Jacqui...
Jacqui returns to Late Kick Off, London and the south east, for a second season, having hosted last season's show alongside pundit Mark Bright.
She is best known for being the first female commentator on Match of The Day, attracting widespread media interest when she made her debut for BBC One's iconic football show on April 21st 2007.
As well as having done many commentaries for Match of the Day, the Football League Show and BBC 5 Live, for whom she covered the 2010 FIFA World Cup in South Africa, she has also presented several sport shows, mostly on her beloved football.
Jacqui's anchor roles include the Football League Show, World Football Focus, Uefa Women's Euro 2013, ITV FA Cup highlights and she presents weekly on the Premier League's global TV network as well as spending Saturdays reporting/commentating live from matches.
A keen footballer herself, it took a serious knee injury in 2000 to see Jacqui change career from intellectual property rights management to sports broadcasting, securing a Postgraduate Diploma in Broadcast Journalism, having earlier attained a BA (Hons) degree in German.
Jacqui started reporting and commentating on non-league football for BBC local radio before her progression to BBC Radio 5 Live and television.
Jacqui and her family live in Surrey, have a daughter Phoebe and are expecting a second child in May.
She says: "It was an absolute privilege to present the London and South East version of Late Kick Off last season, and even more exciting to be invited back this year.
"We have such a vibrant football patch with so many stories to cover, there's never a dull moment or shortage of interesting guests.
"I can't wait to get started again with Mark Bright alongside me, and I'm relieved that we won't have to live through the dramas surrounding his beloved Crystal Palace and can focus calmly on our other clubs!"