The Search Is Over: Paul Oxley is Radio 2's New Voice of Pause For Thought
Competition winner announced at The Cheltenham Literature Festival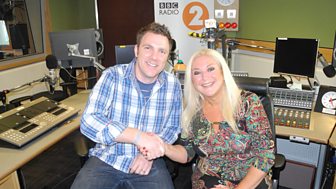 Last Monday morning at 0545am Paul Oxley was home with his family in Milton Keynes, reflecting on his previous day's sermon at St Marks where Paul is the Vicar. Exactly one week later he was broadcasting to millions on Vanessa's Early Breakfast show after winning the second annual search to find a new voice on matters of faith.
Paul was shortlisted along with five other finalists from hundreds of entrants to make yesterday's grand final. Held at The Cheltenham Literature Festival in front of a live audience, Paul delivered a live thought to a panel of esteemed judging panel that included Vanessa, Radio 2 Controller Bob Shennan and The Times Religious Correspondent Ruth Gledhill.
The judges remarked on a "dazzling" calibre of entries, but Shennan singled out Paul as a "worthy and exciting winner" while Vanessa remarked that Paul "stood out like a beacon" from the other finalists.
Paul will follow up their first live thought on Radio 2 with another five as part of their prize for winning the 2013 search, and he follows in the footsteps of 2012 winner, who's now a regular contributor to Vanessa's show.
The search was conducted by TBI Media in association with The Times Cheltenham Literature Festival and The Cambridge Coexist Programme.
Click on the box to the left of this clip to Listen to Paul's First Thought
Behind the scenes with our New Voice!
We speak to Paul Oxley about becoming the Pause For Thought New Voice on Early Breakfast.
The Coexist Foundation is a non-profit organization creating understanding across divides