Barbara Bryceland
ELIMINATED IN THE BATTLE ROUNDS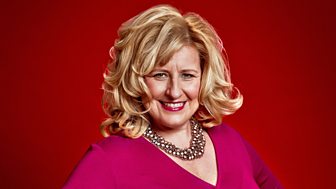 | Fact title | Fact data |
| --- | --- |
| Team | Tom |
| Age | 47 |
| Home town | Falkirk |
Did you say Barbara Streisand? No, Barbara BRYCELAND – but it's easy to get confused because they've both got incredible voices. It's not unusual for Sir Tom to like big voices and there's not many bigger than Barbara's.
I think I'll give the younger acts a run for their money. I've certainly got experience on my side!

Barbara
47 years young Scottish Barbara's been on the road singing in pubs, cruise ships and cabaret clubs for 23 years – as long as Jessie J has been alive! She says she can reduce a room of macho guys to tears with her singing – now that's a powerful voice.
Now that she's a grandma?!?! (unbelievable, right?) she is eager to grab her chance to fulfil her potential and become the artist she knows she can be. Our glamorous granny has certainly got the experience but can she become The Voice?