Lesley Woodbridge
Lesley Woodbridge writes about her pilgrimage into the labyrinth of tunnels under the Somme.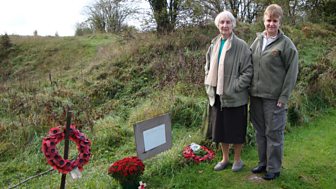 In 1915 my great-grandfather William Arthur Lloyd was recruited to join the Royal Engineers, travelling to France to burrow under enemy lines and lay mines in order to blow up enemy positions.
He was sent to La Boisselle but spent only nine weeks there before he was killed in an underground explosion, he was 37 years old.
He wrote just one letter home to his wife and six children then aged between four and 12 years old. In this letter it described how "murderous" the conditions were, but also seemed that he held little or no hope of return.
When I was a child William Arthur was a well used name in our home by my grandmother, who never knew where he had been sent in France or where he now rests.
I have visited the Glory Hole, the name given to the area, a number of times and I imagined standing over the place where he lies, but never did I ever think that I could actually make the very journey down the tunnels, which were to be his last.