Navdeep Bual answers your questions
Unlike the controversial chameleon her team's hair product was named after, Navdeep was unable to blend into her environment when it came to the boardroom. Lord Sugar's decision to fire her signalled the end of an impressive stint on Young Apprentice, but Navdeep is back to answer your questions...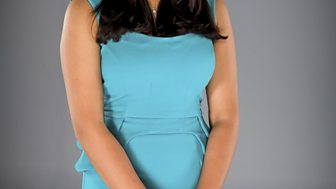 What were you thinking when you saw the Strexy brand and advert? (from Liv and Amilah)
When I was in the boardroom and saw the bottle for the first time, I thought it looked slightly garish and the advert was rather cheesy. Regardless, I thought the name was pretty smart and the brand being tacky seemed to work out!
Did you actually think you were going to get fired or Andrew? (from Luca)
When you're waiting to hear what Lord Sugar decides, every second feels like an hour and I still remember furiously wondering if it was to be me or Andrew! To be fully honest, I thought for a moment it would be Andrew and it seemed to me like it was quite a close one between the two of us!
Was there ever an age demographic when choosing a target market for gel? (from Jimmy)
I think we said that we wanted it to be for 'alternative young men', probably under 30 who deemed themselves quite hipster.
Who do you think should win? (from Anna)
I think that nearly all the remaining candidates are deserving but I would have to say Lucy's calm decisiveness makes her really stand out and she also has brilliant interpersonal skills.
Out of all of the candidates who have been fired so far, which candidate do you think Lord Sugar was the most wrong to fire and why (apart from yourself)? (from James)
I was only on the losing team twice so can't really comment on the ability or fairness of the fired candidate but I would have to say I felt sad for Max in the first week as he really didn't seem to do anything wrong and didn't have enough time to prove himself and I also got on incredibly well with David (who in my eyes had a lot of bad luck and was at times ganged up upon in the boardroom) and he seemed to really want the experience.
Was it a surreal experience meeting Lord Sugar for the first time? (from David)
Yes! It's really strange to think that one year ago I was watching Lord Sugar on television and then the next series of Young Apprentice I was sitting in front of him! Lord Sugar is incredibly honest and although some people say that we are just kids, Lord Sugar practically treats us like adults and tells us what he honestly thinks. The whole thing was quite surreal to be honest!
What was your favourite task? (from Anjani)
Has to be week 5! There is no better feeling than winning a task as PM, especially when (and this is quoted from Lord Sugar himself) we 'annihilated' the other team! 
You were by far the best pitcher, but were there any other skills you didn't show us? (from Santiago)
I loved pitching. In week one I loved selling and I wish that I had got to stay for longer to show Lord Sugar that I had other business like skills as well.
If you were to take part in Young Apprentice again, what would you do differently? (from Rhaya)
Not get fired! In week 6, I would have stressed the importance of a CLEAR brand and tried to come up with another original idea to replace Chameleon. I would have also put myself up for PM earlier because I enjoyed it so much in week 5!
What did you learn about yourself on Young Apprentice? (from Ashley)
I learnt a lot about myself... There were times on the show when I questioned my ability and I shouldn't have done that. When I was in the boardroom for the first time, I realised how much I had to ensure everyone knew that I meant business (which is why I certainly wanted to be PM the next week). I also learnt how important it was to understand the people you work with, what Andrew saw as constant criticism, was actually me trying to be constructive and that experience taught me to be more emotionally aware of the people I am working with.
You did some great things whilst on the show - what are your aspirations now for the future? (from Michael)
Well thank you! I am currently studying for my A levels and hoping to get into a top uni to study either medicine or politics. Either way my ultimate aim is to work for the UN or create a new body which is economically sustainable whilst being charitable at the same time.
What would you have invested your £25,000 into? (from Syed)
I had a business plan to do with stationary that created profit whilst also helping developing countries which is something I would have liked to start up whilst being in university.
What is your dream job? (from Aaron)
This is quite an easy question for me! For several years now, I have known there is no job that would make me happier than becoming the General Secretary of the UN (and if that happened, i would be the first female to ever have the job). I am debating medicine and politics at the moment.