No, Not This One
Arena has been on air for over 30 years and during that time the champagne hasn't flowed quite as easily as one might expect. For every idea that eventually makes it onto the screen, there are many that have fallen by the wayside. Sometimes ideas don't live longer than the breath needed to express them, others are agonised over for weeks and months, practicalities and poor timing is the death of others. There are however a few ideas that die by the hands of the subject and no matter how well an argument is worded, when a contributor or subject says 'no' to being filmed or featured it's time to think again.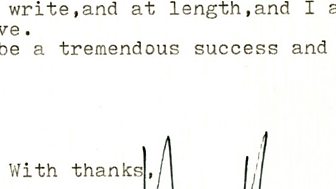 Here we share a selection of rejection letters from the great and the good and morn what could have been...
In 1982 Arena considered making a film about the 18th Century English Novelist and patron of the arts, William Beckford. A key contributor to the film was the actor, Dirk Bogarde (Death in Venice) who was a fan of the writing of Beckford and his Abbey at Fonthill. Bogarde made it loud and clear that he doesn't 'get involved' with British TV, 'I don't do British TV because the amount they pay wouldn't cover my expenses!' In death however, the mortuary that is TV puts all stars on the slab, no matter how big, and in 2001 Arena made a 3 part film about Dirk Bogarde.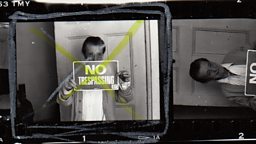 I don't do British TV because the amount they pay wouldn't cover my expenses!

Dirk Bogarde
In quite the opposite tone, Charles Hawtrey rejected the idea of having a profile made about him, 'Please, please try and understand, - a televised interview regarding what I have 'done' and 'not' done, with clips and graphics, is beyond contemplation.'
Francis Bacon was 'hard at work at some paintings' in 1982 and couldn't commit any time to being interviewed. After the paintings were finished, Bacon featured in 2 Arena's - Arena: William Burroughs (Burroughs visits Bacon for a cup of tea, see it here) and his own profile in 1984, followed by a major award winning profile in 2005.
Off the back of a successful appearance in Adam Low's trilogy on Evelyn Waugh, Arena approached Kingsley Amis with another idea. Father and son, Martin Amis, were to be invited each to make a film about the other. Kinglsey gave the idea short thrift, 'no, not this one.'
For some rejections it's a case of 'I would if I could..' As was the case with Doris Day in 1993 for a film on Frank Sinatra. Day's agent writes that should Miss Day agree to the many requests they would 'detract from her priority of helping animals and the people who love them….if she agrees to one request - she feels obligated to fulfill all of them…and there are not that many hours in a day!'
Graham Greene was notoriously camera shy, indeed there are only a handful of frames in existence featuring the author on film. In 1989, after reading his biography, Nigel Finch decided to make a film out of the fact that there wouldn't be a single shot of its principal subject. The Other Graham Greene tells the story of an impersonator masquerading as Graham Greene. Greene gave the film his full cooperation and was prepared to be recorded speaking on the strict understanding he was not to be filmed.
You might have thought that once the cameras were rolling your contributor was committed to the film. Not so. In Arena: Louise Bourgeois the film begins with an argument between the director, Nigel Finch and the artist, who demands final say in the editorial content of the film.
Jean Genet turned the tables on his interviewer, Nigel Williams, in 1985. Genet dreamt the night before filming that the film crew would revolt and throw Genet out of the spot light. The director and his soundman are forced to face the questions and account for their actions.
And finally, in her unique delicate manner, Sister Wendy also begins to question what the real motivations are of the director making a film about her.
Contributors Who Don't Play By The Rules