She Loves You
The song that marked the beginning of 'Beatlemania'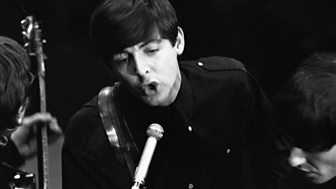 | Fact title | Fact data |
| --- | --- |
| Release date: | 23rd August 1963 |
| Written by: | John Lennon and Paul McCartney |
| First recorded by: | The Beatles |
| Also recorded by: | McFly, Rita Lee, Chet Atkins, James Last, Peter Sellers, Alvin & The Chipmunks |
Synopsis
Beatles fans are a studious bunch. There are probably no other songs featured on The People's Songs where we can pinpoint EXACTLY when and where the tune was written, but with She Loves You we can! Lennon and McCartney penned the hit on 26th June 1963 after a gig in Newcastle with Roy Orbison and Gerry and the Pacemakers.
Yeah, yeah, yeah!

She Loves You
According to Lennon it was McCartney who came up with the idea of putting the narrative in the third person, from the point of view of a friend of two would-be lovers. It was based on Bobby Rydell's song 'Forget Him' as well as taking elements from Elvis Presley's 'All Shook Up' and the Isley Brothers' version of 'Twist and Shout'.
George Martin's production emphasises the electric instrumentation far more than in previous hits, making it truly thrilling and its release marked the point where Britain finally succumbed to 'Beatlemania.' It remained on the UK charts for a record-breaking 31 consecutive weeks and to this day it remains the band's best-selling UK hit of all time. This undoubtedly makes it the one recorsd that epitomises the optimism and feeling of being alive in the brand new dawn of Britain in the early 60s. And, as if to underline how our small island had become the epicentre of 'cool' at that moment in history, She Loves You on its first release in the USA sold only about one thousand copies!
Other recordings - from the bizarre to the comic!