Adam Kenyon
Former journalist at the Daily Mail, Adam had reached the career cul-de-sac of night editor, and was only too pleased when asked to join the in-betweeners as a special advisor because of his knowledge of the media.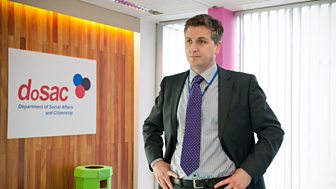 He is also a bully who bears grudges, famously vowing to hunt down and destroy Olly Reeder after he was spun by Olly once too often.
Adam shares Fergus's dislike of Mannion and goes out of his way to wind up Emma and Phil. He likes to play squash with his boss at least twice a week and if a magazine existed that was a cross between the New Statesman and Nuts, Adam would buy it.
Transport: Nike cross-trainers
Played by Ben Willbond